Specialist engineers with a renewable energy focus
We love a challenge. That's why delivering solutions, insights and advice to some of the most complex renewables engineering challenges is what we're known for.
K2 Management prides itself on working exclusively in the renewable energy space, so our team of engineers focus only on wind and solar projects on a daily basis.
Balanced technical and commercial know-how is laced through every assignment that we work on, from the earliest stages of development to operations. This translates into detailed, balanced advice for our clients while helping them navigate project challenges.
What we do for our clients
Delivering Dam Nai onshore wind farm
See how our owner's engineer and project management role unfolded on the Dam Nai onshore wind farm in Vietnam in the video below. Read about the project here.
DOWNLOAD GUIDE
STEP-BY-STEP GUIDE
Developing and operating wind and solar projects
Learn step by step how you can you develop, construct and operate a wind or solar project.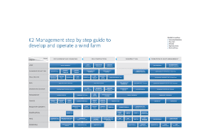 With this guide you will get a good overview of the processes involved and learn which key areas you need to go through to ensure a successful project.
Complete the form to the right to get a copy of this guide emailed straight to your inbox.