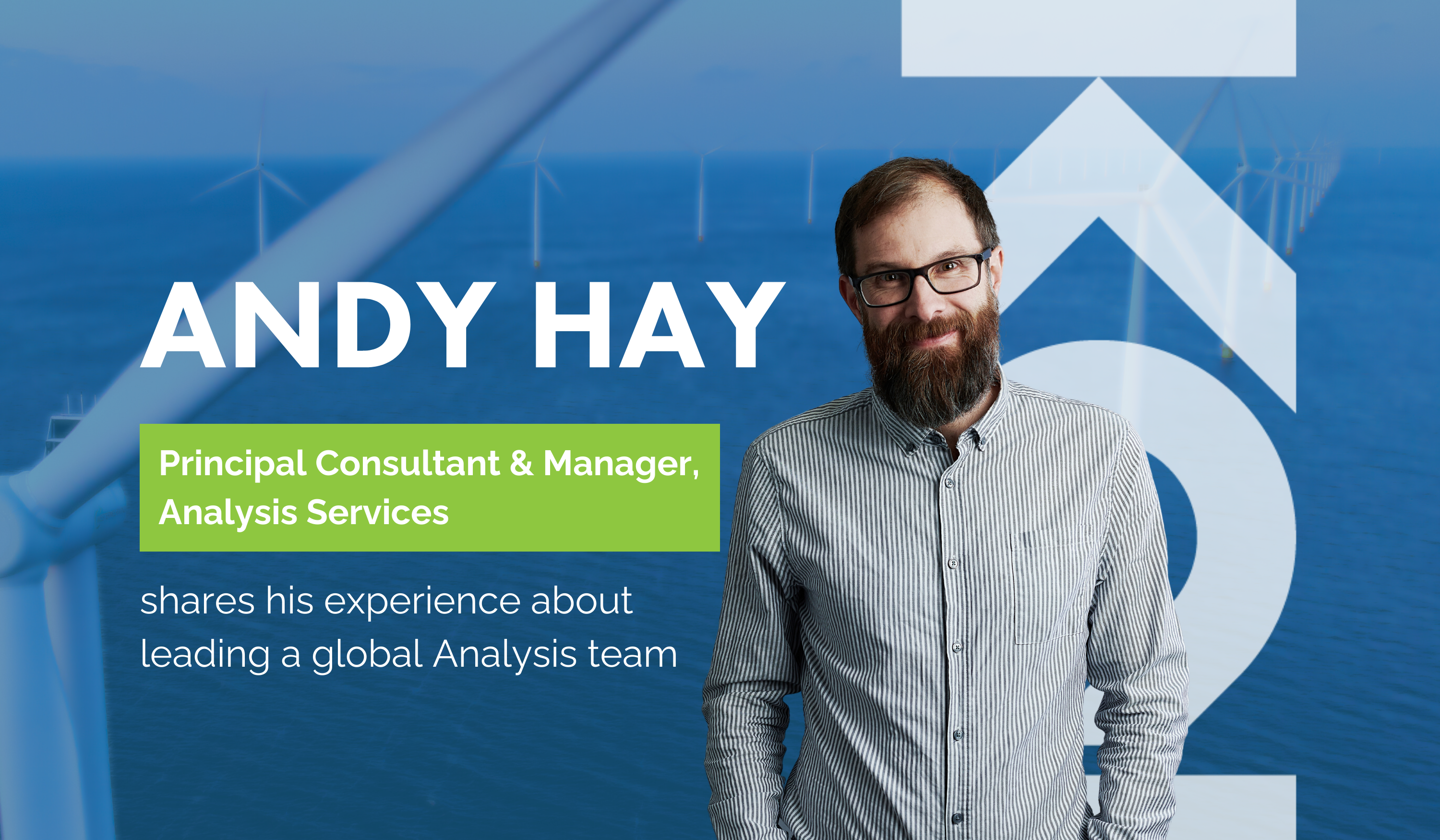 Driving Innovative Analysis Services in Renewable Energy
As the renewable energy landscape evolves, key innovators within our industry are directing pioneering teams in the wind and solar analysis space. One of those individuals is Andy Hay, a Principal Specialist and Manager of K2 Management's Analysis Services team – a team that has successfully worked on 150 renewable energy projects this year, representing over 60 GW of capacity across five continents.
With 18 years of unwavering commitment to the renewables sector, Andy's career journey perfectly demonstrates the exciting career growth and progression that the industry offers.
Small Beginnings to Big Business
Experienced by many STEM graduates at the time, opportunities to work in the renewables sector were once very limited. Andy's first job was in the defence industry, whereas many graduates today have specifically studied renewable energy in order to move straight into the sector.
Andy's career in wind analysis began at Garrad Hassan at a time when the wind industry was a relatively small community united by a common purpose - to contribute positively to the green energy transition. Fast forward to today, this landscape has drastically transformed. Wind energy is now incredibly high on the global agenda, with some of the world's largest companies investing in massive infrastructure projects aimed at harnessing renewable energy sources.
Now in his role at independent renewable energy consultancy K2 Management, Andy leads a team of talented colleagues who remain steadfast in their belief of the significance and positive global impact of wind energy. As the industry expands, the need for precise and realistic energy yield predictions and ROI is greater than ever before. Andy and those within the Analysis team at K2 Management demonstrate the exciting, lifelong career opportunities on offer – wind analysis is not just about predicting the energy and cost outcomes of projects, but about pushing the boundaries of what's possible via continuous innovation, and learning from the ever growing fleet of operational turbines around the world.
The Complexity of Wind Analysis
Wind analysis is anything but simple. Each site presents a unique set of challenges, from varying wind climates to different terrains, and ever-changing turbine size and technology. While automation and improved predictive models continually lead to advances in the field, human consultancy and advisory is invaluable to condense and communicate the results for clients looking to achieve the greatest possible value from their renewable energy projects.
At K2 Management, we're in pursuit of precision and being the best in the business. Outdated wind analysis methods designed for the early small wind projects of Denmark no longer cut it for the diversity of today's projects – from the seas of Asia to the deserts of the Arabian peninsula, from the Andes mountains to the Australian outback.
The K2 Management team has set a standard by leading the industry in various areas of wind analysis development, such as real-world wind turbine performance and wake modelling.
Pushing the Boundaries
The Analysis team strives to set new industry benchmarks and is at an exciting position in renewable energy industry, focusing heavily on first developing, testing, validating and applying our processes and tools internally to continually better serve clients. Andy and all his colleagues invite passionate individuals who share their commitment to cutting edge wind analysis innovation to join the team.
K2 Management's flexible working environment allows individuals to balance their career and personal lives with ease, ensuring each colleague has the space to innovate and excel in their roles no matter their level. With the team consisting of seasoned experts and recent STEM graduates eager to make a difference in the fight against climate change, our Analysis team offers unparalleled opportunities for growth, learning and more.
For those without experience in the renewables industry, the Analysis team serves as a fantastic 'academy' for those wanting a taste of an engaging career in the renewable energy sector. The global and diverse team comprises of a broad church of technically-minded people with varying academic backgrounds, including engineers, physicists, data scientists and meteorologists. With opportunities to develop within the analysis space, or to move into roles with developers and investors, wind analysis offers a one-of-a-kind career opportunity.
Together, we can continue pushing the boundaries of wind and solar analysis and drive the energy transition to a sustainable, clean energy future. We pride ourselves on providing the best possible wind and solar analysis service with clear, transparent methods that provide industry-leading accuracy, no matter where a wind or solar project is located. our team, primarily based in hubs in UK and Bangkok, amongst other locations, work as a single global team, ensuring a variety of projects for our staff and high quality and consistency for our clients.
To learn more about our open roles, please visit our careers page: