Download K2 Management's Energy Yield Predictions - An Offshore Guide
In this guide, the second in our series, we draw on our experience analyzing offshore wind farms and wind data for research, tender, acquisition and operation.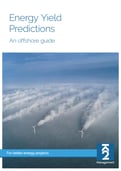 Our goal is the unbiased estimation of energy yield, with the lowest feasible uncertainty.

Download this free guide now, by completing the form on your right.