Helping clients build, finance & operate great offshore projects
Working with Northland Power to develop Deutsche Bucht
Great offshore projects start with great development


Working with Northland Power to develop Deutsche Bucht
Constructing your project offshore in safe hands
Working with Northland Power to develop Deutsche Bucht
Helping you get the best from your offshore assets
Asset management for energy projects
Derisking investments for lenders, investors and developers


Find out what our clients think makes a good technical advisor
News, views and insights
K2 Management wins at the 2023 Wind Investment Awards
K2 Management is proud to announce it is the recipient of the highly commended award in the 'Technical Advisory of the Year' category at the 2023 Wind Investment Awards - one of the industry's leading events that recognise excellence in the renewable energy industry.
Making hybrid renewables fit into Europe's clean energy ecosystem
Europe is facing an energy crisis. To anyone who has so much as glanced at the news in the past year, that much is clear. We know that we need to secure energy independence to remain steadfast on various volatile fronts — geopolitical, technological, and financial — all while sticking to ambitious carbon targets for the good of the climate, like the European Commission's REPowerEU goal of 40% renewables reliance by 2030. To that end, many countries are looking to maximize every possible megawatt of locally sourced clean energy.

How we add value to our clients
Download K2 Management's Energy Yield Predictions - An Offshore Guide
In this guide, the second in our series, we draw on our experience analyzing offshore wind farms and wind data for research, tender, acquisition and operation.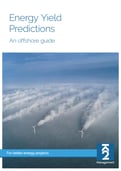 Our goal is the unbiased estimation of energy yield, with the lowest feasible uncertainty.

Download this free guide now, by completing the form on your right.