Helping you get the best from your assets
Optimizing project return on investment through asset management
Project owners want the best operational performance and good margins when refinancing. Investors want assurances that they're investing in a strong project that is both technically and financially secure.
Undertaking asset management is more than just site inspections and maintenance.
It is a delicate balance of proactive and reactive techniques that encompass many different elements, a combination designed to fit each project.
Our independent specialists work with owners and investors to optimize assets and strengthen the bottom line.

Asset management for energy projects
Advanced operational analysis delivered globally
Energy yield is the main driver of asset value and despite being focused on a lot in development, it is just as important (if not more) during operation.
Want to know whether your project is performing against predictions?
Or understand the reasons behind underperformance with a proactive plan to tackle the issues?
We deliver validated, defensible results and advice across both on and offshore wind and solar PV farms, from pre-construction to operation.

What is good wind analysis
News, views and insights
K2 Management wins at the 2023 Wind Investment Awards
K2 Management is proud to announce it is the recipient of the highly commended award in the 'Technical Advisory of the Year' category at the 2023 Wind Investment Awards - one of the industry's leading events that recognise excellence in the renewable energy industry.
Shifting your mindset from building to operating an offshore wind farm
During the development, financing and construction of an offshore wind farm, the focus of most developers and suppliers is firmly on how to build the best energy project possible.
How we add value to our clients
Download K2 Management's Operational Wind Farm - A Buyer's Guide
As the risk of failing to accredit increases, many buyers are sensibly choosing to delay investment until projects are up and running.
While operational assets are not subject to the same licensing, construction and commissioning risks as pre-construction projects, they do still present significant pitfalls related to long-term energy yield.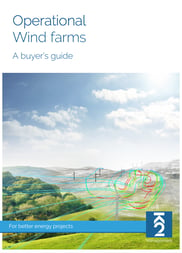 We regularly conduct operational analysis that uncovers flawed projections, resulting in revenue over-estimates of hundreds of thousands of pounds per year.

Likewise, we sometimes see the reverse which can present valuation opportunities.

Download this report to see some real examples of this in action, and to get insights from us in our Buyer's Guide.