Helping you get the best from your assets
The project is commissioned; the assets are generating power - now what?
The project build and live date is only just the beginning. Once operational, owners must begin to establish how to generate more value from their investment.
To achieve the greatest value, owners should be asking:
How can I minimize downtime?
How can I tweak misalignment to improve performance?
How can I maximise technology advancements throughout a project's 25+ years of operational life?
Why are aspects of my project underperforming and how can I proactively tackle these issues?
We provide independent expert analysis and industry-leading asset management advice to projects situated across the globe. Learn more about how you can optimize performance via the above drop down menu.
News, views and insights
Shifting your mindset from building to operating an offshore wind farm
During the development, financing and construction of an offshore wind farm, the focus of most developers and suppliers is firmly on how to build the best energy project possible.
K2M launches new asset management system in collaboration with Emerson
Renewables specialists join forces to provide independent power producers with digitalised operations and maintenance support as O&M costs balloon for mature projects.
How we add value to our clients
Download K2 Management's Operational Wind Farm - A Buyer's Guide
As the risk of failing to accredit increases, many buyers are sensibly choosing to delay investment until projects are up and running.
While operational assets are not subject to the same licensing, construction and commissioning risks as pre-construction projects, they do still present significant pitfalls related to long-term energy yield.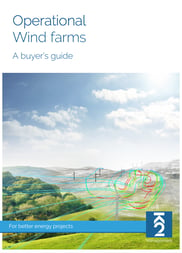 We regularly conduct operational analysis that uncovers flawed projections, resulting in revenue over-estimates of hundreds of thousands of pounds per year.

Likewise, we sometimes see the reverse which can present valuation opportunities.

Download this report to see some real examples of this in action, and to get insights from us in our Buyer's Guide.