Constructing your project in safe hands
Guiding Dam Nai from development to operations
Adding value through engineering from start to finish

As owner's engineer on Dam Nai onshore wind farm in Vietnam, see how we supported our client to completion…
Delivering successful projects for our clients


Working with Northland Power to develop Deutsche Bucht
Protecting your project from top to bottom

Quality inspection and supervision
News, views and insights
The complexities of floating wind sector innovation – the case of reinforced concrete
The floating wind sector is in its infancy, though it is developing at a rapid pace. To date, only a few projects have been fully implemented, and the use of reinforced concrete for floating foundations is still relatively new. Although the offshore wind industry has historically been dominated by the use of steel foundations, the use of reinforced concrete platforms offers greater benefits in terms of localisation, costs, flexibility in design and construction and, generally, brings advantages in the form of material availability.

Developing flagship community-owned solar parks in Denmark
We're seeing a rapid expansion of the global renewable energy sector, though Denmark has a long history of developing and using renewable methods to secure future energy needs. As it stands, the country derives 67% of its electricity supplies from renewable sources, with wind energy providing just over 46% of that. The country also has an interest in biomass energy, accounting for 11% of its renewable electricity supply.
How we add value to our clients
Download K2 Management's whitepaper on reducing the LCOE
Whitepaper | Reducing the levelised cost of energy: Challenges, trends and opportunities in today's wind projects for tomorrow's business cases
The ever-evolving nature of the wind market means K2 Management and JLT Specialty are on the frontline of the latest developments, facing challenges and opportunities with our clients as they happen.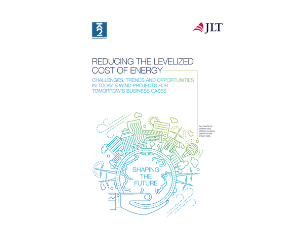 During these assignments, common trends were identified, illustrating the industry's growing appetite for both cost and risk reduction and performance improvement.
This report identifies key trends across both onshore and offshore wind projects based on real project data taken from K2 Management's recent due diligence assignments. It delves deeper into how these trends may evolve, shaping future projects and wider industry advancement and how these are looking to reduce the levelised cost of energy.
Complete the form to download the report!
*By registering and downloading the whitepaper you accept that your information will be shared between K2 Management and JLT Specialty, but will not be shared with third parties.