Constructing your project in safe hands
Guiding Dam Nai from development to operations
Adding value through engineering from start to finish

As owner's engineer on Dam Nai onshore wind farm in Vietnam, see how we supported our client to completion…
Delivering successful projects for our clients


Working with Northland Power to develop Deutsche Bucht
Protecting your project from top to bottom

Quality inspection and supervision
News, views and insights
K2 Management wins at the 2023 Wind Investment Awards
K2 Management is proud to announce it is the recipient of the highly commended award in the 'Technical Advisory of the Year' category at the 2023 Wind Investment Awards - one of the industry's leading events that recognise excellence in the renewable energy industry.
Laying the foundations for offshore wind success through FEED
K2 Management recently completed a front-end engineering design (FEED) exercise covering monopiles and jackets for a key project in South Korea. We encountered relatively challenging soil conditions, yet we were able to overcome them thanks to the work we'd done to strengthen our offshore foundation design process.
How we add value to our clients
Download K2 Management's whitepaper on reducing the LCOE
Whitepaper | Reducing the levelised cost of energy: Challenges, trends and opportunities in today's wind projects for tomorrow's business cases
The ever-evolving nature of the wind market means K2 Management and JLT Specialty are on the frontline of the latest developments, facing challenges and opportunities with our clients as they happen.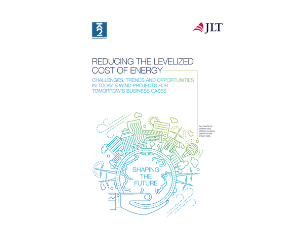 During these assignments, common trends were identified, illustrating the industry's growing appetite for both cost and risk reduction and performance improvement.
This report identifies key trends across both onshore and offshore wind projects based on real project data taken from K2 Management's recent due diligence assignments. It delves deeper into how these trends may evolve, shaping future projects and wider industry advancement and how these are looking to reduce the levelised cost of energy.
Complete the form to download the report!
*By registering and downloading the whitepaper you accept that your information will be shared between K2 Management and JLT Specialty, but will not be shared with third parties.