Unlocking returns on solar PV projects
Investing in solar energy has never been more attractive in some markets, but maximizing return on investment isn't always easy.
Luckily, our solar specialists know what banks are looking for, know what makes projects attractive to lenders and know where to look to improve margins.
Leveraging our project experience, a solid business case and realistic solar resource assessment secures an accurate picture of project expectations.
Hear what our client, Canadian Solar, has to say about our cooperation on Australian solar projects…
Great solar projects start with great development
A robust solar project starts with strong development and planning.
Putting in the hard work on the business case and maximizing predicted resource expectations at an early stage will pay off further down the line.
By considering a longer project lifetime up front, project owners can be better prepared to navigate opportunities to improve IRR as they come up. Whether that's improvements in technology or improved OpEx strategy.
What makes good solar analysis
Helping you get the best from solar assets
The project is commissioned; the assets are generating power - now what?
Once a project is operational, it's easy to think that the hard part is over and take the foot off the gas.
But in reality, this is the time that owners should be looking at ways to squeeze more value from their investment.
Owners should be asking:
How can I minimize down time?
How can I reduce OpEx costs?
How can I make my solar project attractive for refinancing?
From operational analysis to asset management, these questions can be answered, and project performance optimized through our independent advice.
Derisking investments for lenders, investors and owners
Getting the technicalities right can be the difference between an average and well-performing project.
Whether you're buying, selling or developing a solar project, detailed evaluation will give a clear picture of the project - both technically and financially.
Our advisory expertise spans yield analysis, risk management, due diligence, technical advisory and financial services - all of which come together to deliver better energy projects.
What makes good solar analysis
News, views and insights
Unlocking the Potential of Hybrid Renewable Projects in Europe
Renewable energy sources play a pivotal role in the pursuit of a greener future. The European Commission's REPowerEU plan has set ambitious targets for increasing renewable energy capacity across the continent, and naturally, expectations are high.

K2 Management wins at the 2023 Wind Investment Awards
K2 Management is proud to announce it is the recipient of the highly commended award in the 'Technical Advisory of the Year' category at the 2023 Wind Investment Awards - one of the industry's leading events that recognise excellence in the renewable energy industry.
How we add value to our clients
Download K2 Management's Step-by-step Guide to Develop and Operate Wind Farms
Learn step by step how you can you develop, construct and operate a wind or solar project.
With this guide you will get a good overview of the processes involved and learn which key areas you need to go through to ensure a successful project.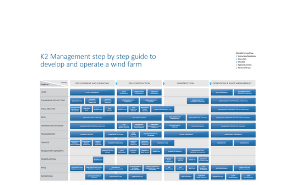 Complete the form to the right to get a copy of this guide emailed straight to your inbox.