Finding value in onshore wind
The onshore wind markets in many geographies are mature and capacity is higher than it ever has been across the globe.
But this market maturity and cost competitive landscape means that owners need to dig deeper to uncover more and better ROI opportunities.
Details are important and K2 Management prides itself on seeing what others overlook – whether that is risks, technical challenges or even opportunities.
From pre-construction business case calculations through construction and operation, our specialists will help you to deliver better energy projects onshore.
See how we helped our client deliver the Dam Nai project in Vietnam…
Guiding Dam Nai from development to operations
News, views and insights
K2 Management to support hybrid renewables in 2023
K2M takes new service offering to market in recognition of significant opportunity for hybridised renewables in realising European Commission's REPowerEU plan. Hybrid projects have potential to de-risk supply chain constraints, optimise clean energy supplies and provide new revenue for renewable investors.
'Slow down to speed up' approach needed to hit ambitious renewables targets
The European wind industry needs to slow down in its attempts to further drive down the levelized cost of energy (LCOE) and scale back on building bigger turbines. This, at least, is the view of K2 Management, a leading renewable energy engineering and project management consultancy, which believes that unless the inexorable push to lower the cost of renewable energy is reigned back, the ambitious targets for wind power set by European governments will not be met.
How we add value to our clients
Download K2 Management's Step-by-step Guide to Develop and Operate Wind Farms
Learn step by step how you can you develop, construct and operate a wind or solar project.
With this guide you will get a good overview of the processes involved and learn which key areas you need to go through to ensure a successful project.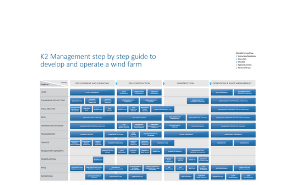 Complete the form to the right to get a copy of this guide emailed straight to your inbox.