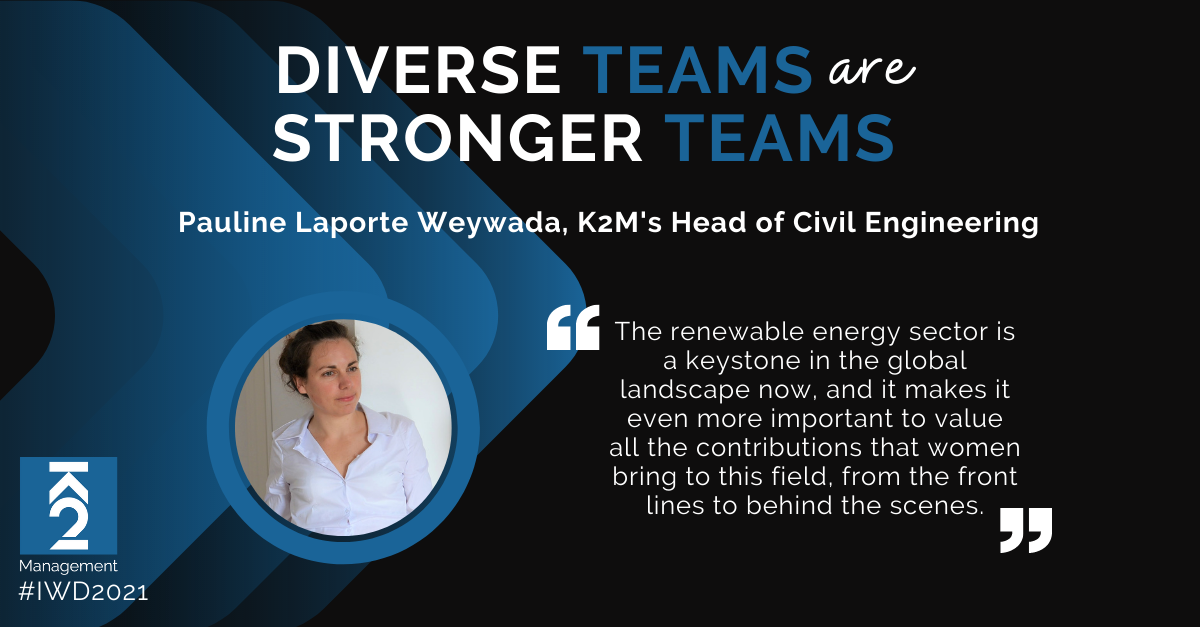 International Women's Day Series: Pauline Laporte Weywada
On International Women's Day we are reminded of the fundamental truth that diverse teams are stronger teams. We are lucky to have many outstanding women at K2 Management and so to celebrate #IWD2021 we wanted to highlight some of our inspiring colleagues leading the way as women in the renewables industry.
We found out from some of the K2M women around the world what they love about their work, what International Women's Day means to them, and their advice for other women looking to make the jump into the renewables landscape.
Pauline Laporte Weywada Head of Civil Engineering – Located in Portugal
Can you describe a little about what your role entails at K2M?
I lead the Civil Engineering team, where my objective is to manage the portfolio of activities related to Civil Engineering, ensuring an even and consolidated workload for the whole team. It also involves the development and maintenance of the Civil Engineering processes, tools and technical capabilities, and in general the coordination of the Civil Engineering projects. I also like to keep my technical involvement in projects, mostly contributing to offshore foundation design and site condition assessment related activities.
What do you enjoy most about your role?
For me, the most attractive part about my work is two-fold: first the variety of projects we are exposed to in terms of technology, conditions, objectives, development stages, client culture etc. Secondly, the constant opportunity to grow and develop, learn new topics, both from this exposure to a wide range of projects but also from knowledge exchange with colleagues with a broad range of backgrounds and experience.
Why do you think International Women's Day is important, particularly in the renewables landscape?
Coming from a mechanical engineering background, and from a family of four kids/three brothers, I have always evolved in an environment mostly occupied by men, and I often don't really notice it anymore. That is why initiatives such as IWD are such a great opportunity to drive gender parity and highlight achievements from a still too often under-represented community. The renewable energy sector is a keystone in the global landscape now, and it makes it even more important to value all the contributions that women bring to this field, from the front lines to behind the scenes.
If you had to give a shout out to a female colleague at K2M who would it be and why?
I have had the chance of working with quite a few amazing ones, so it is difficult to pick! I specifically want to take my hat off to all the mostly female colleagues (though not only, so men are included here too) who have been handling, sometimes alone, the working from home, taking care of kids, home schooling and keeping up with the household chores throughout the global lockdowns – I relate very much to the situation, and want to say that, despite the distance, we are all in this together!
What advice would you give to any young women thinking about starting a career in renewables?
The renewables sector is an amazingly broad field with so many aspects worth exploring. You will find your way, as soon as you start visualising it, and start going one step (or more!) at a time; create your own experiences, stay upbeat, positive and looking forward, never give up and see the bright side of things as you can learn, evolve, and bounce back from pretty much any situation.