Specialists in renewable project development and execution
Getting the right deliverables or activities done on time and on budget is, in simple terms, the key to successful project development. But the reality can often present many more challenges than expected.
We support clients with a structured approach to project management, built on our wealth of experience in executing wind projects. Whether in development or ready to build, managing the known and the unidentified risks is essential to delivering. We provide the right structure to your project to help you deliver better energy projects.
K2 Management delivers professional project management that is bankable.
How we guided Dam Nai from development to operations
As owner's engineer on the first foreign-owned onshore wind farm in Vietnam, we are really proud of what we achieved together with our client. Take a look at the video below for the highlights.
What sets us apart
Local knowledge, global experience
We have project managed wind projects all over the world, so we understand the nuances in different markets that can make a big difference. With boots on the ground and a hands-on approach, we combine knowledge of local markets and leverage our global experience to give you the best advice.
Specialists in all disciplines
Standing alongside our project managers are specialists in many disciplines – from risk management to civil engineering – who we can call upon when specific challenges arise. These specialists integrate into project activities as required to provide advice and support.
We take the lead
Our value lies in our ability to take ownership of the project management element of a project. Taking the lead means that instead of just working from a project plan, we are empowered to adapt to challenges as they arise, leading owners towards a solution instead of presenting a problem.
Download K2 Management's Step-by-step Guide to Develop and Operate Wind Farms

Learn step by step how you can you develop, construct and operate a wind or solar project.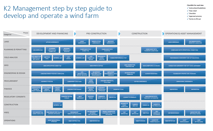 With this guide you will get a good overview of the processes involved and learn which key areas you need to go through to ensure a successful project.

Complete the form to the right to get a copy of this guide emailed straight to your inbox.