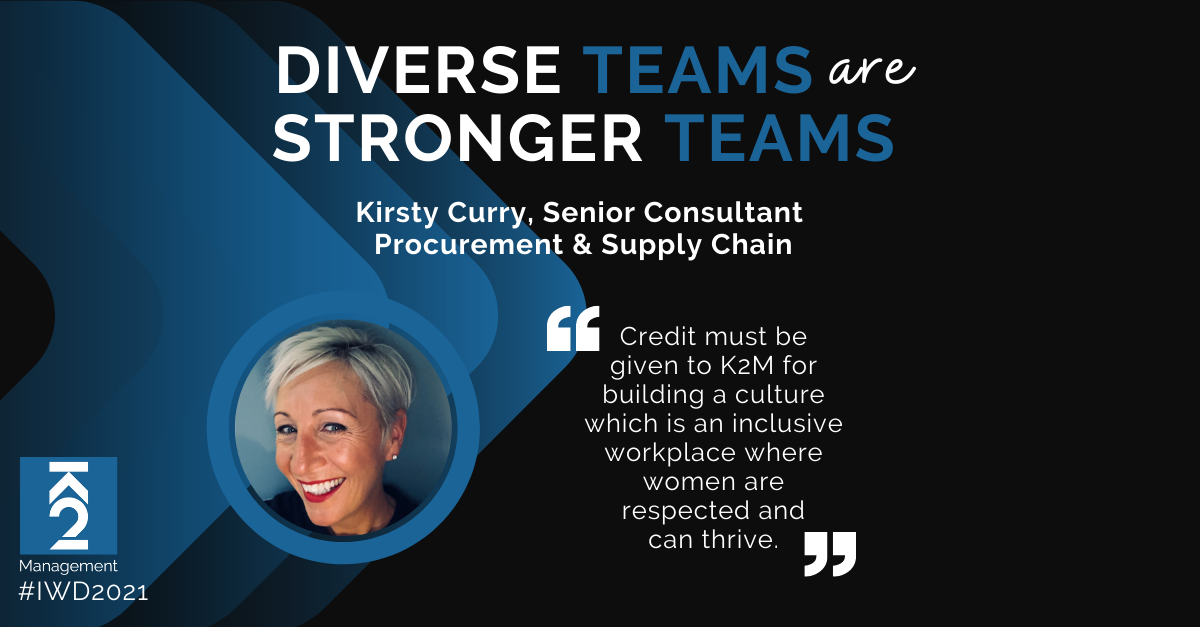 International Women's Day Series: Kirsty Curry
On International Women's Day we are reminded of the fundamental truth that diverse teams are stronger teams. We are lucky to have many outstanding women at K2 Management and so to celebrate #IWD2021 we wanted to highlight some of our inspiring colleagues leading the way as women in the renewables industry.
We found out from some of the K2M women around the world what they love about their work, what International Women's Day means to them, and their advice for other women looking to make the jump into the renewables landscape.
Kirsty Curry Senior Consultant Procurement & Supply Chain – Located in the UK
Can you describe a little about what your role entails at K2M?
I work in the Procurement and Supply Chain department helping clients buy wind turbines and the 'other bits' that enable the complex construction that is required for both onshore and offshore projects.
What do you enjoy most about your role?
Our client base is internal as well as external, and we have a diverse network globally. I am a people person and believe in long-term relationships with colleagues and clients. This core value has served me well throughout my career.
Why do you think International Women's Day is important, particularly in the renewables landscape?
IWD is an important forum to reinforce the great strides we have made in our own personal and gender achievements. My career has been predominately in male dominated engineering/utility sectors and an unexpected move into renewables about six years ago has kept me here. Even in this short period of time, the growth in women playing their part in this sector has increased dramatically, which is reassuring. My journey has not been easy, and I am under no illusion that I walked this road alone. Every other woman has experienced similar challenges but I see it slowly changing before my eyes.
If you had to give some recognition to a female colleague at K2M who would it be and why?
I am relatively new to K2M and although my interaction with Carol Goodall has been limited, she is the woman I would want to give kudos to. A Chartered Engineer with a degree in Naval Architecture, Carol is currently assisting a transportation and installation contractor to build their own vessel! Too cool! Credit must be given to K2M for building a culture which is an inclusive workplace where women are respected and can thrive.
What advice would you give to any young women thinking about starting a career in renewables?
Just do it. If you like the idea… just do it. Or as my mother told me… Go and get it!