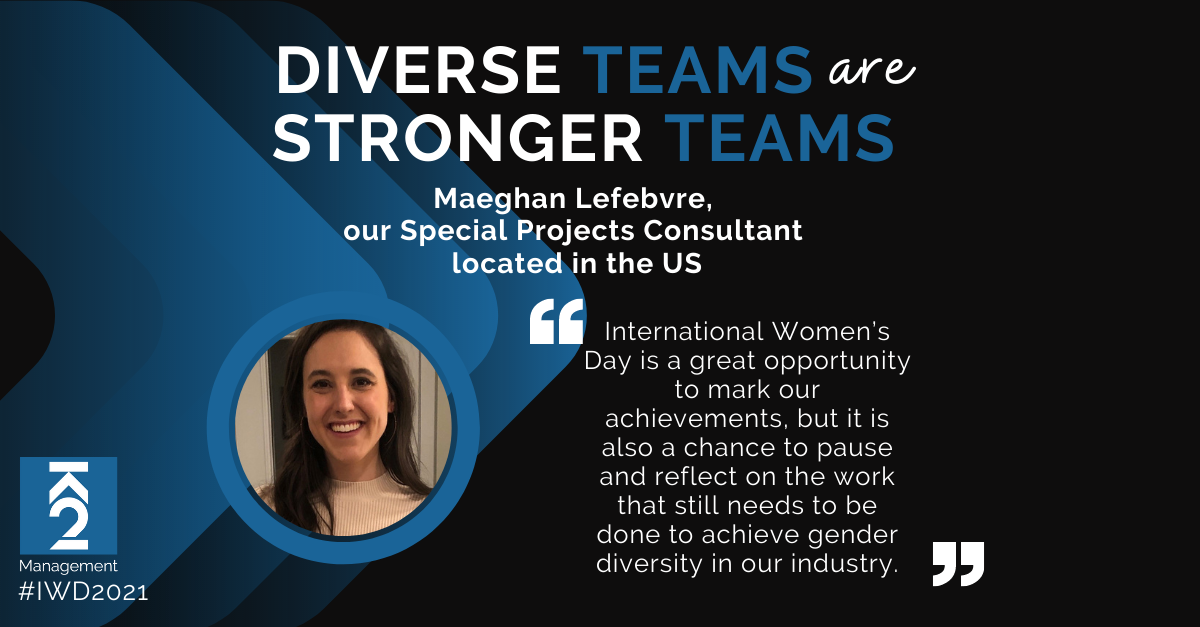 International Women's Day Series: Maeghan Lefebvre
On International Women's Day we are reminded of the fundamental truth that diverse teams are stronger teams. We are lucky to have many outstanding women at K2 Management and so to celebrate #IWD2021 we wanted to highlight some of our inspiring colleagues leading the way as women in the renewables industry.
We found out from some of the K2M women around the world what they love about their work, what International Women's Day means to them, and their advice for other women looking to make the jump into the renewables landscape.
Can you describe a little about what your role entails at K2M?
I provide project management support and expertise to our client projects, often managing the interface between our clients and our technical teams. I also support business development efforts for our North American operations, scoping client projects and developing proposals.
What do you enjoy most about your role?
I enjoy the wide variety of projects I get to work on! Since joining K2M, I have worked with dozens of clients on projects across the renewables industry – solar PV, onshore wind, and offshore wind. Since our assignments span the project lifecycle, I have been able to support clients on projects from early-stage acquisition due diligence to project development, construction, and asset management.
I love working in renewables because the work I am doing on a day-to-day basis is actively contributing to the development of a greener future. It is so satisfying to work in a field with tangible outcomes – when a project you have supported goes online and starts generating clean, renewable power.
Why do you think International Women's Day is important, particularly in the renewables landscape?
While we're doing better than some industries, renewables is still largely male-dominated. It is important to recognize the contributions women have made and continue to make to take the industry forward. International Women's Day is a great opportunity to mark our achievements, but it is also a chance to pause and reflect on the work that still needs to be done to achieve gender diversity in our industry.
If you had to give some recognition to a female colleague at K2M who would it be and why?
I would give a shout out to Jo Clarkson, who heads up K2M's marketing team. Her role requires her to work effectively across all our global regions and understand the nuances of doing business in each country or region, and she does it all with a smile on her face and a sense of humour!
What advice would you give to any young women thinking about starting a career in renewables?
Talk to people who work in different aspects of the industry to get some insight on what field might be a good fit. It is such a broad space that there are opportunities for any interest and skillset –project management, finance, engineering, marketing, sales, legal – you name it! There are also opportunities in both the public and private sectors. When you are talking with people, ask what industry they came from. As renewables is still a relatively new industry, many people have spent some time in other sectors, and these conversations may help you consider how your skillset can translate.