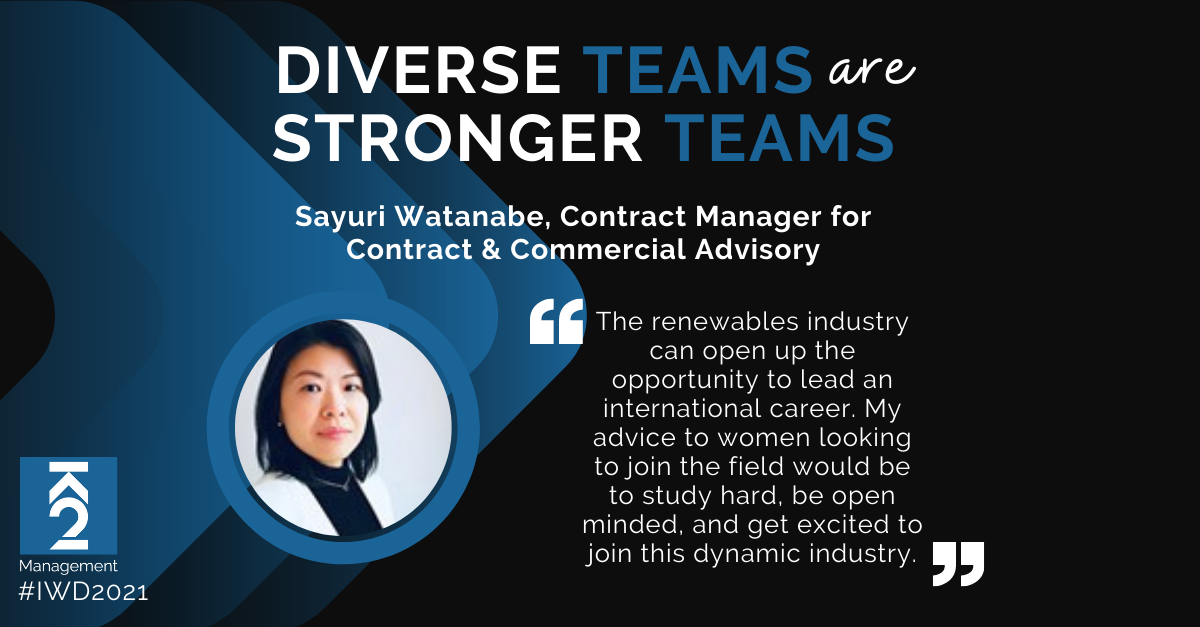 International Women's Day Series: Sayuri Watanabe
On International Women's Day we are reminded of the fundamental truth that diverse teams are stronger teams. We are lucky to have many outstanding women at K2 Management and so to celebrate #IWD2021 we wanted to highlight some of our inspiring colleagues leading the way as women in the renewables industry.
We found out from some of the K2M women around the world what they love about their work, what International Women's Day means to them, and their advice for other women looking to make the jump into the renewables landscape.
Sayuri Watanabe Contract Manager, Contract & Commercial Advisory – Located in Germany
Can you describe a little about what your role entails at K2M?
I am working at K2M as a Project Manager or Contract Manager depending on the project I am assigned to. In addition, I perform research on the latest news, trends, laws and regulations of the offshore wind industry in Japan.
What do you enjoy most about your role?
I enjoy establishing a strong network with the wind industry in Europe and Asia. Also, I really enjoy working in the multicultural, global-oriented workplace that K2M provides.
Why do you think International Women's Day is important, particularly in the renewables landscape?
I think it is important to raise the profile of the important role that women are playing in the renewables industry and to encourage young women to become professional in this dynamic industry in the future.
What advice would you give to any young women thinking about starting a career in renewables?
The renewables industry can open up the opportunity to lead an international career. My advice would be to study hard, be open minded, and get excited to join this dynamic industry.