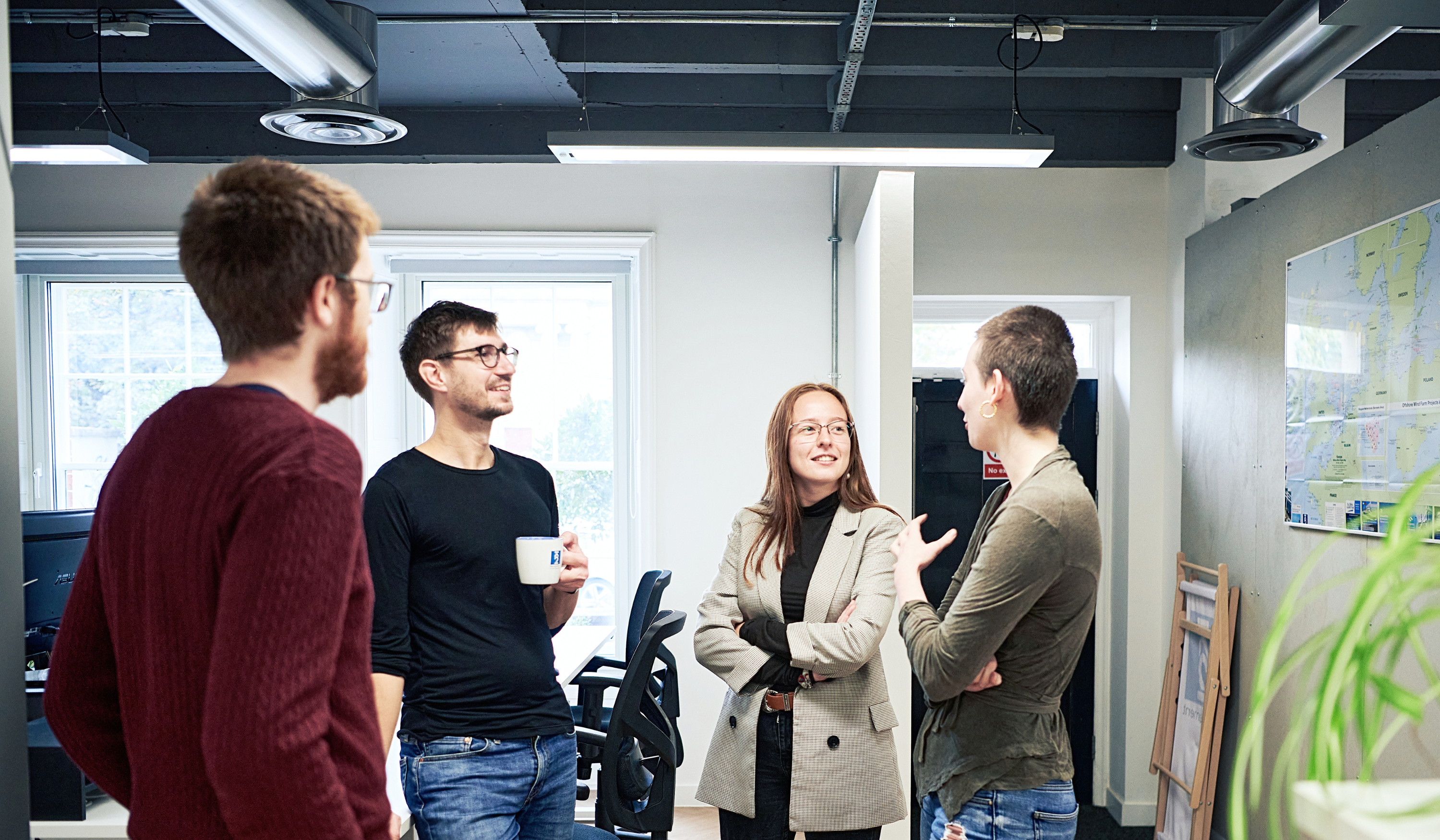 The Graduate Experience at K2 Management
Stepping beyond the world of academia into a professional setting is daunting for any new graduate. However, the renewable energy sector offers a vast array of exciting, fast-paced opportunities for those willing to get stuck in and learn something new every day. K2 Management's Graduate Experience has welcomed nearly 20 graduates to date, all from a range of sectors and backgrounds.
Romane Moulin and Andrew Warnock, started their careers as graduates but have now flourished into full-time roles at the consultancy. Their transition to the dynamic world of sustainable energy solutions was both smooth and rewarding, having been supported by a number of senior colleagues and other junior talent to discover the ins and outs of what a rewarding career in the space could entail.
In this blog, we delve into their perspectives on joining K2 Management as fresh graduates, their growth, and the unique advantages they found in pursuing their early professional experiences in the sector.
A Seamless First Step
Andrew vividly recounts his K2 Management recruitment journey, noting the process as 'very straightforward'. Andrew comments, "I had an online interview with two managers from the analysis team. The questions were designed not to catch me off guard, but to truly understand if I'd be a good fit within the team. The technical questions challenged me to analyse real wind measurement data, and the process felt like a genuine conversation aimed at finding the right match."
Being part of K2 Management's Graduate Experience is akin to diving headfirst into the world of impactful projects. Andrew explains, "From day one, I was involved in some of the biggest renewable energy projects worldwide. Working alongside various teams, I quickly grasped the nuances of each project, and no two projects were alike. The comprehensive training process transformed me into a valuable member of an industry-leading team. The ever-evolving industry encourages open discussions and values fresh perspectives, fostering a culture of innovation."
Romane, now a Software Developer in the Analysis Services team, agrees, noting that K2 Management's Graduate Experience is an ample bridge between the academic world and real-world challenges. Talking about her experience, Romane adds, "I'm entrusted with engaging tasks while receiving invaluable guidance from colleagues and managers. It's an empowering balance that promotes growth."
The Perks of Being a K2 Management Graduate
Reflecting on the colleagues he worked with and the experience he gained shadowing them, Andrew praises the openness of the staff at K2 Management and their willingness to share expertise: "The seasoned professionals I collaborate with are a tremendous asset. Learning from the industry's best isn't an opportunity many companies provide."
Unlike other graduate programmes in the industry, Andrew is one of many graduates at K2 Management who feel that exposure to real business dealings and experiences right from day one has uniquely accelerated his personal and technical growth 'like never before'. The welcoming nature of his colleagues has also extended beyond the office too, as Andrew adds: "The office atmosphere itself is very comfortable and friendly, making it easy for anybody to feel welcome. And of course, there are always other graduates or colleagues happy to go for a post work drink."
Romane also keenly highlights the fellowship among staff, noting, "The trust and respect we receive from peers is remarkable. The collaborative spirit among graduates is inspiring. Senior team members provide unwavering support, bridging the gap between experience and new perspectives."
Overcoming Challenges: The Graduate Perspective
Challenges are an integral part of any professional journey. Andrew candidly shares, "My background lacked exposure to renewable energy technologies. I had to navigate a steep learning curve to understand my role and the industry." However, with the support of his colleagues at K2 Management, Andrew was guided on how best to translate his existing experience into skills that would successfully arm him in his career in renewables. As he illustrates, "My challenge became an advantage, and my expertise in data analytics, gained during university, was instrumental from day one."
Romane also keenly expresses her challenges, noting the early difficulties of balancing both curiosity and self-sufficiency. She comments: "Knowing when to ask questions versus when to delve deeper for answers is a skill I'm honing. But K2 Management's environment fosters learning, making every challenge an opportunity."
The Ultimate Recommendation
The graduate journey at K2 Management is a transformative experience, combining hands-on learning, impactful work and a supportive community. Romane and Andrew's testimonials paint a vivid picture of an environment that fosters growth, encourages innovation and values fresh perspectives.
Romane emphasises: "To anyone wondering whether to start your career with K2 Management, I'd highlly recommend it. I really appreciate the time I spend here, and it keeps getting better! It's a great company with a great aim and lots of great people."
Similarly, Andrew's enthusiasm for recommending a career in renewables - and at K2 Management is also clear. As he concludes, "Working here is a double win – contributing to combating the climate crisis and advancing in a thriving industry. The daily excitement is unmatched, and I wholeheartedly recommend K2 Management to anyone considering it."
As the world embraces renewable energy solutions, K2 Management stands as the industry-leading renewables consultancy guiding graduates toward meaningful careers that help to shape our sustainable future.
For more information, visit our careers page: