Appointment of Chief Executive Officer
K2 Management today announced that its Board of Directors has appointed Jørn Zielke as Chief Executive Officer (CEO). He will join the company June 2019. when released from the contract with his current employer.
Jørn Zielke has more than 20 years of international experience from the service and energy industries, serving in various CEO or senior management positions over the past 10 years.
Jørn Zielke (48) comes from a position as CEO in the regional municipality owned utility, Vestforsyning.
Vestforsyning is an organization of 175 employees responsible for water supply, waste, heat, energy production (including wind and biomass) and distribution in the Holstebro area (Western Denmark).
Previously, Jørn Zielke held various management positions in Denmark, Spain and the United States, including Interim CEO at emergency medical service provider Falck USA with 4500 employees and CEO at
two regional Danish utility divisions; EnergiMidt Fiberbredbånd and NRGi Infrastruktur. For full bio, please visit Jørn Zielke's LinkedIn profile.
Chairman of K2 Management, Kaj Lindvig, said:
"This is the perfect time for Jørn Zielke to join K2 Management as its new CEO. We have just commenced a new company strategy for the next three years, which will build on the exponential growth seen in the company over the last years. K2 Management is now present on six continents, with over 250 colleagues and an increasing client portfolio. The Board of Directors is pleased to have an experienced conductor to lead the orchestra of great renewable energy experts at K2 Management, across all segments and time zones."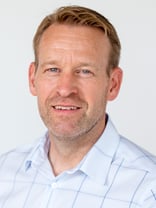 CEO Jørn Zielke said:
"The opportunities that lie ahead for the company are enormous and the chance to lead this next chapter is both humbling and attractive. I am thrilled and excited about joining K2 Management and look forward to creating a lot of value for our clients in close collaboration with the team, the company's two owners and other stakeholders."
Jørn Zielke holds a Master's degree in Law. On the private side Jørn Zielke lives in Ry, close to Aarhus, Denmark. He is married and has three children.
Jørn Zielke. Download picture.
Co-founder Lars K. Hammershøj has been acting as interim CEO since Henrik Stamer, by mutual agreement, left the company in October 2018. This will continue until Jørn Zielke fully joins the company.
About K2 Management
K2 Management, founded in 2007, is a 100 percent independent company. Fully owned by the two founders; Lars K. Hammershøj and Per K. Melgaard.
K2 Management supports its clients in their efforts to develop, improve and optimize wind projects to achieve the best possible return on their investment. Our global advisory and service offerings within project management and planning, risk and opportunity management make K2 Management a unique energy project consultancy covering the entire value chain; from the earliest phases of planning and development to the actual construction and maintenance of sustainable energy projects.
K2 Management is headquartered in Denmark with 20 global offices and, accumulated, our experienced team has been involved in more than 1500 wind and solar projects.
For more information please contact Chief Marketing Officer Michael Holm:
+45 50368517 or mho@k2management.com