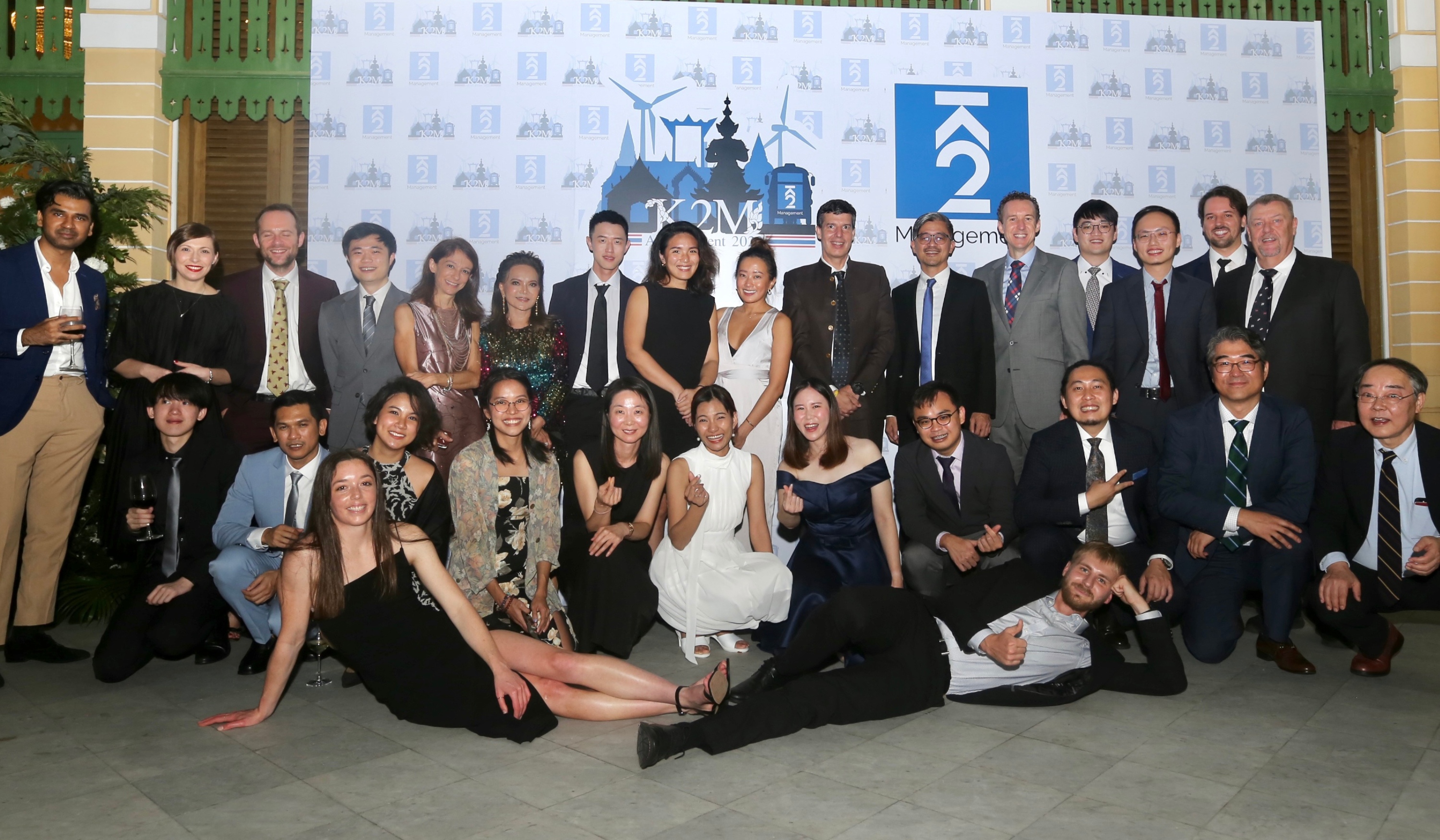 Connecting localized expertise in an increasingly virtual world
Since our inception in 2007, our people have always been at the very heart of K2 Management. Our collaborative working culture sees our global teams work together on a frequent basis across a number of projects. Of course, the pandemic posed various difficult challenges for in-person work - as it did to all businesses.
After two years of not being able to meet in person, our November event in Thailand saw some of our colleagues from the APAC region meet up in Bangkok, for a long overdue reunion. It was a time packed full of workshops, team building exercises and idea sharing, and was host to many great conversations, brilliant food, laughter and fun.
It is this event that has encouraged us to reflect on both the significance and importance of collaborating in person. Recent research* has also reinforced this feeling - 85% of staff surveyed report being motivated to meet in person for the purpose of building team bonds. Having spoken at length to many of our own clients, the vast majority are very keen to re-adopt face to face meetings, themselves recognising the importance for team collaboration and building deeper relationships. This is despite global changes in attitudes towards office-based working and an ongoing desire for colleagues to work wherever they are in the world.
The modern landscape
Between 2019 and 2021, the number of people primarily working from home in the U.S. alone grew significantly** from 9 million to nearly 28 million. Research*** into the Future of Work also uncovered that 8 out of 10 employees say they work at least as efficiently while based remotely.
On paper the shift to virtual working has proven positive - many talented individuals have come together regardless of their location to solve some of the world's greatest issues. We as a company also truly believe in the benefits of flexible and adaptable working - it is via an agile workforce that we have been able to tackle incredibly complex, industry-wide projects with truly world-class talent.
On the whole, remote work is incredibly productive but there is much to be said about how emotional interactions translate, particularly when working alongside various cultural considerations and differences. Whether through a video camera or an electronic message, person to person contact is often something that cannot be fully replicated via any other means.
Combining global and localized expertise
There are clear benefits outlining why face to face collaboration is important - it ensures clear communication, stronger relationships, poses fewer interruptions or misunderstandings, and encourages both attentive participants and interactions that help to build trust.
But for global organizations, there are also the cultural considerations. Not all teams work in the same way and likewise, the shift to remote work has not been universal. As recent insights**** suggest, in-person work is of greater value and preference in some markets - remote work requests are twice as common in the Americas than in the Asia-Pacific region.
Our November APAC event confirmed our longstanding view that having a local presence is vital. There are markets in which we operate where in-person collaboration is appreciated as the business norm, and an on-the-ground presence is highly valued. This can come in the form of someone who speaks the local language and who has a native, first-person perspective of the local market in which their team operates.
Our forward look
At K2 Management we have colleagues spanning 27 nationalities and more, and as our global presence grows, we continue to do so with flexibility and adaptability at our core. Yet despite the push to an increasingly virtual world, we're continuing to grow our business with locally-based teams built by colleagues who can offer global expertise in native languages. As in-personal international meetings kick start once again, we're seeing an even greater need to hire this local talent.
We like hearing from all those across the globe - with or without experience - who are interested in joining our innovative renewables consultancy. For more information about our open vacancies, visit our Careers webpage.
*Referring to Microsoft research **Referring to United States Census Bareau News Release
***Referring to Microsoft New Future of Work Report ****Referring to Research
Don't miss out:
If you're interested in joining us, take a look at our available opportunities below: