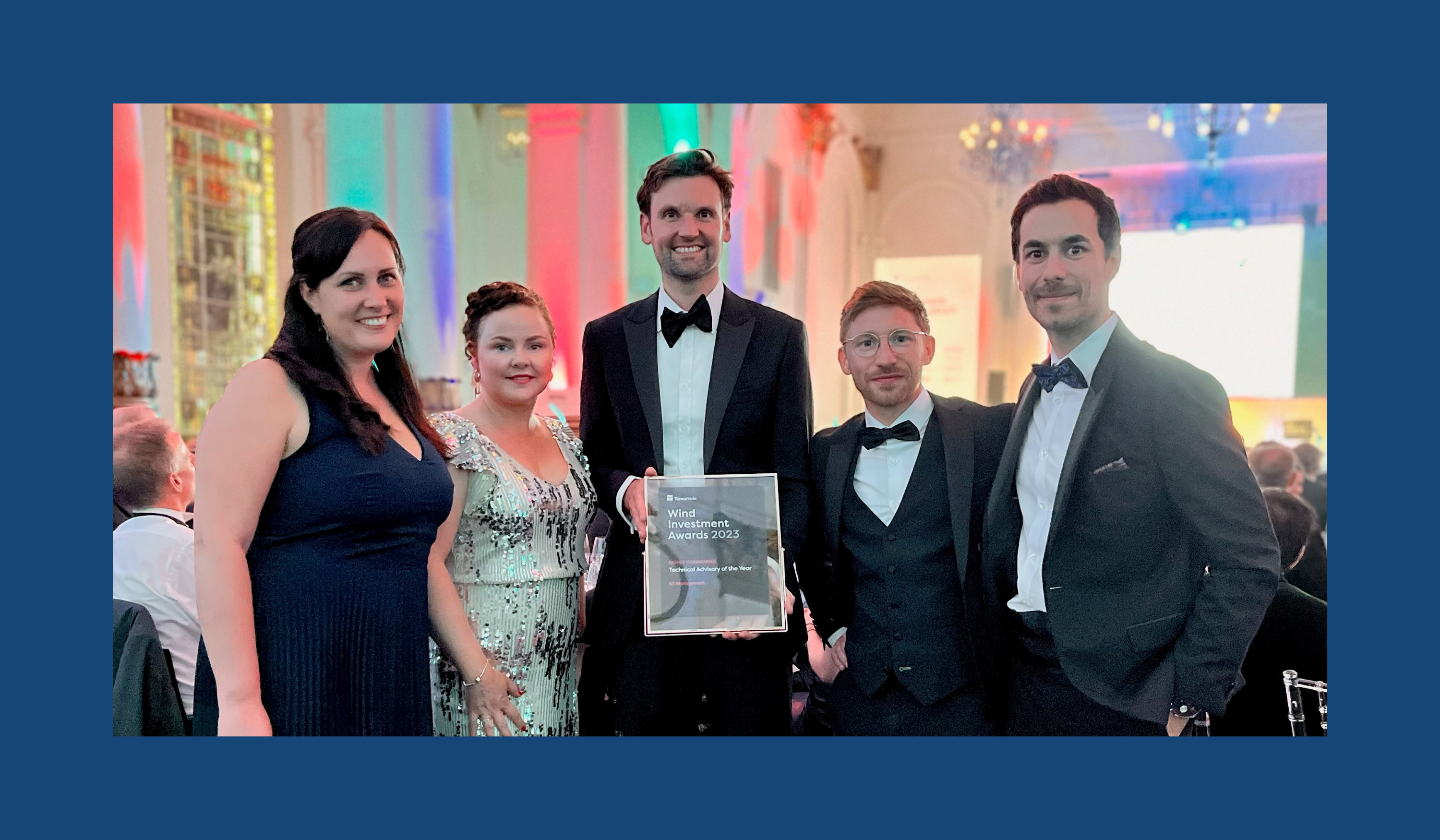 K2 Management wins at the 2023 Wind Investment Awards
K2 Management is proud to announce it is the recipient of the highly commended award in the 'Technical Advisory of the Year' category at the 2023 Wind Investment Awards - one of the industry's leading events that recognise excellence in the renewable energy industry.
Announced at a glittering ceremony in Central London on 25th May, the ceremony offered a celebratory night of networking with a range of top industry decision makers in the global wind market. Our colleagues Sorcha Versteeg, Will Sheard, Bethany Rowson, Daniel Faith and Diego Chernichero were in attendance, accepting the award on behalf of the K2 Management.
"We are honoured that our work has been recognised at such a prestigious event, and our team is thrilled with this award. It is a testament to the hard work and dedication of our team who truly place clients at the heart of everything we do," says Will Sheard, Director, Due Diligence & Analysis Services at K2 Management.
"The guidance, support and expertise we offer to those across the renewable energy sector continues to grow in strength, and we look forward to continuing with our industry-leading practise. We send our thanks to the judges at the Wind Investment Awards, and offer our congratulations to our fellow finalists and winners."

The Wind Investment Awards seek to acknowledge those leading innovation in the wind industry and beyond, taking into account developments and other work undertaken in the renewable energy industry. Qualities reviewed and assessed by the judging team include project development, financing, asset management and more.
Our entry to this year's awards covered our work undertaken with GIP, supporting in their acquisition of WPD Offshore and our support to Axa and Credit Agricole in their acquisition of Hornsea 2. Both clients were successful in acquiring the target assets in what were some of the largest renewable energy M&A transactions of 2022.
We'd like to take this opportunity to show our appreciation to our dedicated clients for placing their trust in K2 Management over the years, and share our thanks again to the judges of the 2023 Wind Investment Awards.