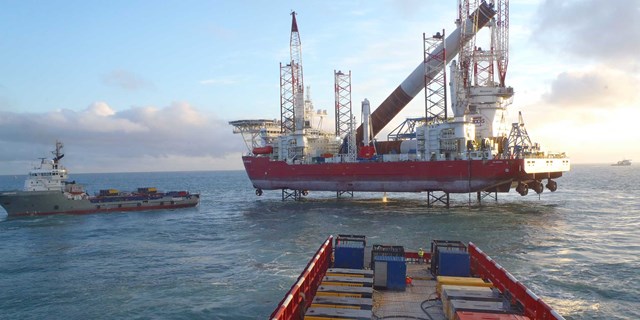 Photo Credit: Veja Mate Offshore Wind GmbH
Military concept reduces risks in wind projects
Do you go to war without first planning and practicing your next move? Would you play a concert without rehearsing with your instrument and orchestra? The same question should be asked when developers and contractors are planning the development and construction of their projects.

A technique used by the armed forces, Rehearsal of Concept exercise or 'ROC drills', allow soldiers and leaders to rehearse battle plans in advance of the event itself.
Applied to the wind industry, this concept sees all key project stakeholders gather in a "war room" to walk through the offshore construction execution plan as a live rehearsal.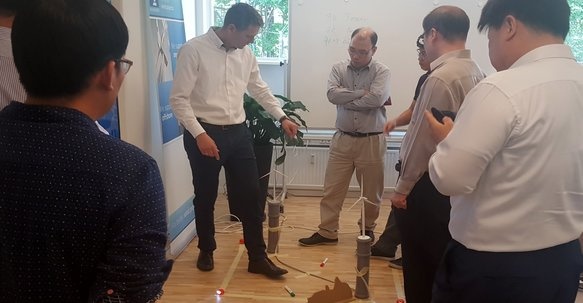 Photo: Korean client Dohwa Engineering in a K2 Management Rehearsal Of Concept (ROC) drill with Senior Project Manager Mikael Benner Andersen from K2 Management on the upcoming Jeonnam offshore project in South Korea.

In other words, this concept saves money, creates transparency between project packages and increases health and safety.
Project design and planning is predominantly based on assumptions, so by performing a ROC drill or a series of drills, project teams can stress test these assumptions and plans in a safe and low-cost environment, allowing stakeholders to explore the procedures and interfaces in the project.
Having vessels and crew placed onto standby during offshore construction because assumptions did not match reality is a costly and risky lesson to learn, so implementing this concept can mitigate those risks.
"People can easily 'fall in love' with their own plans, so it is crucial to test and challenge the plans and assumptions before going live," according to Tue Lippert, Senior Project Manager at K2 Management. Tue Lippert has a long career history in the Danish Navy before joining DONG Energy where he introduced the ROC drill concept successfully on the Westermost Rough Offshore Windfarm in the United Kingdom.
K2 Management is supporting several clients by delivering ROC drills to their project teams, walking them through projects before they need to make these decisions for real.

Clients have really recognised the importance of using this technique, with feedback like:
"...a better understanding of our project and the complexity of offshore construction"

"...many pitfalls have been avoided and risks identified"

"It matured our project significantly"
According to Lippert, "ROC-drills can be used on all projects - small, large, on- or offshore - and can create value for developers and contractors across the whole project execution. Experience in executing this concept is essential as teams will get the most out of this if someone knows exactly how to use their knowledge and experience to challenge project managers, procedures, assumptions and perceptions.
"Once issues, risks or interfaces are identified, it is important to link them with an action and then move on to secure the flow in the ROC drill. The focus is not to go into solution mode, but to successfully identify risks and critical interfaces to enable project teams to turn assumptions into facts," Tue Lippert concludes.