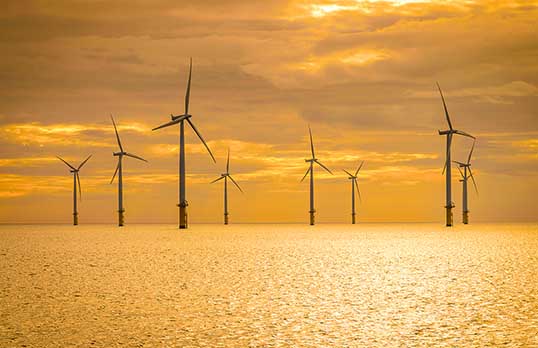 Triton Knoll construction monitoring contract awarded to K2 Management
K2 Management has secured the construction monitoring contract for the circa 860MW Triton Knoll offshore wind farm, which reached Financial Close last week.
The contract's scope includes the monitoring of permitting, design, manufacturing and construction activities and project expenditure on behalf of a consortium of international lenders. The construction monitoring for the project which represents a total planned investment volume of approx £2 billion, will run from Q4 2018 until the commercial operations date (COD), expected in early 2022.
This award follows a successful two-year role as Lender's Technical Advisor for the Triton Knoll project, delivering technical due diligence from the feasibility phase, through the CFD auction process and mandating of lenders, until financial close.
The duration of K2 Management's involvement ensured that bankability considerations were accounted for throughout the development process, to mitigate risk and ensure a bankable business case for the CFD auction process, in which the project was successful in September last year.
The technical advisory role involved advising lenders on permitting and environmental, technical design (civil, electrical, turbine, grid connection), project participants, construction management and associated contracts, schedule and weather risk, O&M strategy and contracts, technical aspects of the final model and review of risk management and contingency sizing.
Julian Garnsey, Project Director of Triton Knoll, said: "This is a great moment for Triton Knoll and the UK offshore wind industry as we formally secure the means to deliver around £2billion of new UK energy infrastructure. We are delighted to reach financial close so soon after bank launch; engaging with K2 Management as technical advisor from the early stages has allowed us together to develop a bankable and well-considered project from the beginning."
K2 Management's project manager Vicky O'Connor commented: "As the first of the 2017 CFD auction-winning projects to reach financial close; the largest capacity project to be project financed to date; and the first large scale deployment of the MHI Vestas V164-9.5MW, Triton Knoll really is a milestone project for the offshore industry."
"Working closely with the project team from the early stages of development has allowed for bankability to be inherent throughout the process, resulting in financial close being reached in a relatively short period. We are proud to have supported the project and the lending group on this milestone project and look forward to continuing this through construction."
Will Sheard, Global Manager, Due Diligence added: "The drive for reducing the levelized cost of energy demands innovative and boundary-pushing approaches to design, financing, contracting and construction methodologies. "
"Sufficient de-risking to support financing and early involvement as technical advisor, as we have delivered on Triton Knoll, will become more common place to secure a robust business case from the earliest stages and we are already seeing a demand for this approach in projects competing in the next CFD auction round."
Offshore construction work will begin in the Greater Wash area of the UK in late 2019/Q1 2020 and will comprise of 90 MHI Vestas V164-9.5 MW wind turbines, which is currently the largest turbine in the world.
K2 Management is currently delivering Lender's Technical Advisor services on CFD-winning Moray East offshore wind farm, is acting as Owner's Engineer for Northland Power on the Deutsche Bucht offshore wind farm in the North Sea and recently completed a successful Owner's Engineer role for the now-operational Veja Mate offshore wind farm. It has recently delivered due diligence for an offshore wind project in the US and due diligence assignments in Japan.