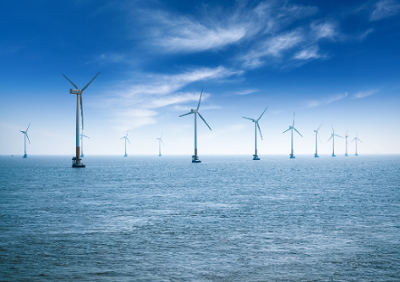 Greener wind supply chains are achievable, but the odds need shifting in favour of developers
The RenewableUK Global Offshore Wind (GOW) event in London, organised by RenewableUK, heralded the return of in-person events for the industry, and for the first time in over 18 months, the halls were buzzing with customers, colleagues and suppliers ready to do face-to-face business again.
Alok Sharma, president of COP26, was a keynote speaker at GOW. He rightly encouraged the industry to help "support wider COP26 efforts", something which, of course, everyone working in wind is highly motivated to do.
But there was one thing that Mr Sharma said which resonated. He encouraged the industry to begin "driving action across your supply chains, encouraging your suppliers to commit to net zero and working with them to reduce emissions" and "use your purchasing power to drive change across the global economy, just as you're using your inventiveness and acumen to drive the clean energy transition across the world".
His emphasis on cross-company collaboration and working together to boost our renewable energy capacity while reducing the sector's carbon footprint, is one that, as an industry, we should welcome. A united goal of zero-emissions calls for a united effort to achieve it.
However, there is an argument to be made that renewables market conditions currently dictate that most businesses in the industry have little leverage when it comes to purchasing power.
Red-tape hindering progress
A key challenge confronting businesses in wind is the red-tape they must cut through to bring a project to fruition. Currently, developers are facing a tangled list of permits and tenders to get their project started.
The contemporary offshore marine and planning licensing regime does not suit the up-scaling ambitions of today, acting as a hindrance at all levels. From local council planning permissions to central government regulations and sign off, there are a number of regulatory obligations which continuously stall development.
This in turn erodes the purchasing power of developers since they are consistently faced with delays to consenting, meaning they are unable to provide efficient timelines for suppliers. A lack of time-scale certainty makes for a struggle to commit suppliers to projects after completing tender processes.
And with few suppliers in the market, this removes the procurement initiative away from developers, and gives sellers the upper-hand. The opportunities, then, of using purchasing power to reduce emissions across the supply chain become narrow.
UK Supply chain challenges
The challenge of immense demand from project developers, coupled with a limited supply base, is felt acutely in the UK. Manufacturers in the wind industry are almost entirely located abroad. And given the demand to develop wind projects in territories across the world, purchasing power does not reside with the developers, operators or power producers.
We need more competition amongst a larger number of OEMs in order to give different stakeholders in the market more power. The lack of competition makes for a market that cannot grow at a rate matching its potential, since, if a business cannot afford the prices or timings dictated to it, the project will not get off the ground.
Looking forward
In essence, for Mr Sharma's commendable vision to be realised, the UK needs to address two key areas. Firstly, hindrances to permitting need streamlining and simplifying to facilitate the required pace of development in the wind industry. This will not only continually attract investment in a burgeoning sector, but also provide greater certainty to developers, which in turn will help them secure better, greener deals with their suppliers.
Secondly, conditions that encourage businesses to base their supply chain operations in the UK need to be enhanced, and the big OEMs need to be incentivised to set up manufacturing bases in the UK.
We have seen glimmers of this, with recent announcements on the Siemens Gamesa blade factory in Hull, but more can be done if the UK Government's ambitious target of 100% of electricity coming from renewable sources is to be achieved. And more yet, if we are all going to work towards a greener wind-energy supply chain.
Authored by Kirsty Curry, Senior Consultant, Procurement & Supply Chain for publication by Offshorewind.biz