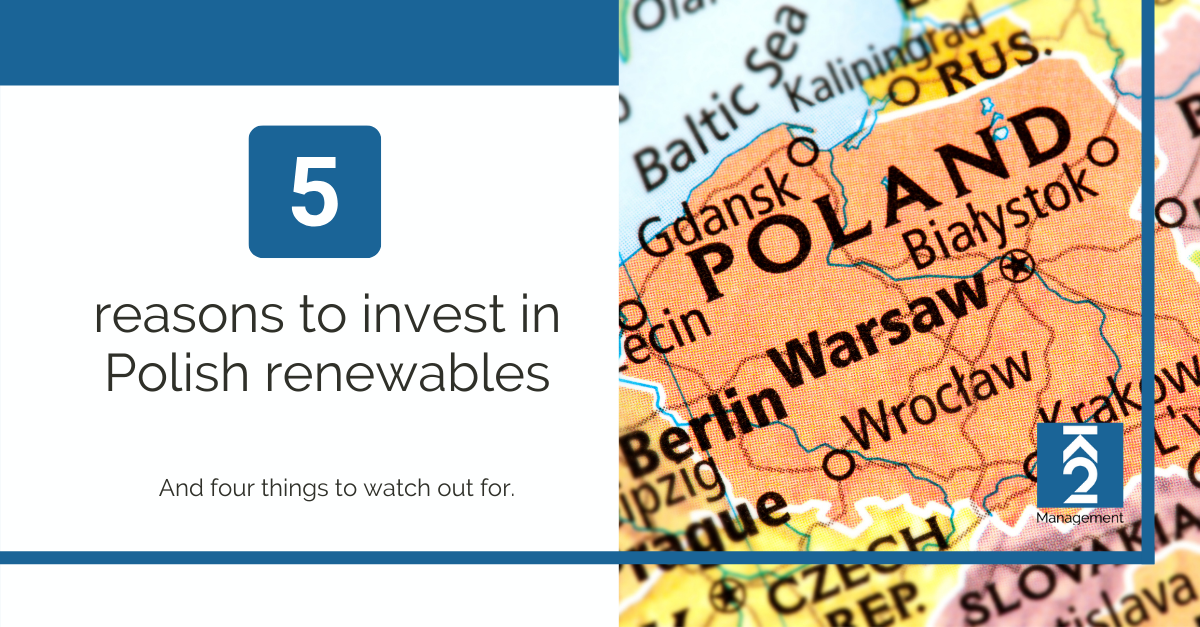 Five reasons to invest in Polish renewables
Poland is still very much at the early stages of its energy transition, in a drive to move away from fossil fuels and build a more sustainable energy network.
Despite a slow start compared to some European counterparts, Poland's renewable energy market has been hotting up over the last two years and is now an attractive option for investors and developers.
Here's five reasons why Polish renewables is the place to be and four things that you should look out for when exploring the market for opportunities.
1. An energy transformation is underway
The Polish energy transformation, shifting reliance from fossil fuels towards renewables, won't happen overnight. Investors should be watching their investments in other energy sources and reassessing whether they're in the right place long-term.
2. Strong government commitment sends a clear signal
The Polish government has committed to ambitious clean energy targets in both wind and solar. Despite not yet having any installed offshore capacity, Poland aims to have 3.8 GW by 2030 and up to 11 GW installed by 2040 offshore.
The Polish Energy Policy 2040 targets continued solar PV growth of 5-7 GW in 2030 and 10-16 GW in 2040, while a less ambitious target of 8-10 GW of installed onshore wind is the goal by 2030.
3. Conditions are favourable for wind and solar
A strong element of the energy policy turnaround is the introduction of the auction system in 2018, moving away from the outdated green certificate system.
Low prices from the latest auction for both onshore wind and solar PV shows that the electricity produced from the renewables is a cheaper alternative to conventional energy sources. That is encouraging the Polish government to undertake further investments into renewables.
4. Significant untapped potential offshore
The conditions in the Baltic sea are great for offshore wind, so Poland has a chance to become a real leader in the Baltic Sea if it makes good on its ambitious 28 GW by 2050 target. There's significant potential in this market for investment, development and industry advancement, although competition is fierce.
5. Perks of EU regulation gives comfort to investors
Despite Poland being a less developed market, strong EU regulation gives comfort to investors thanks to strict quotas that need to be adhered to for future clean generation. Poland brings the opportunity of an emerging market but with the security of a more established market, which mitigates some risks that are faced in other emerging markets that sit outside of the EU.
Infrastructure funds usually have a clearly developed remit for risk and most like to trade in regions where the risks are well known and manageable.
However, there are some things that you should watch out for…
1. Beware of risks like the distancing bill
The 2016 distancing bill governing onshore wind is a prime example of a Poland-specific risk. Under current rules, the distance between turbines and the nearest settlement should be ten times the tip height, which in practice means around 1.5-2km.
A significant majority of Poland's territory available for wind projects does not meet the criteria, building a huge barrier to development. A revision to the bill is expected later this year but until it is passed, this poses a risk.
However, any easing of these restrictive rules could trigger an onshore wind boom in Poland as held up projects could be resurrected so this may become an opportunity in the near future.
2. Technical and legal hurdles in a young market
The lack of legislation is a showstopper in terms of the development of offshore wind projects. Although Poland's first Offshore Wind Act is expected to come into force at some point this year, the legislation is long-awaited and has provided many barriers to development this far. A strong framework and dedicated support scheme for offshore wind will be welcomed.
On a technical level, the Polish Building Law requires Polish-qualified personnel, possessing local licenses to oversee construction of renewable projects. These personnel must not be replaced by the foreign experts from elsewhere in Europe.
It is challenging to source local experts for two reasons – firstly, the renewables market in Poland is young so there is a limited pool of qualified candidates and secondly, there's high demand for their services now that the market is booming.
3. Reliance on infrastructure investment
When bold energy targets begin to become a reality, a stable and sufficient distribution and transmission network is often required to cope with increased capacity. If grid upgrades don't keep up with new capacity of wind and solar coming online, there is a risk that some projects might face unexpected shutdowns or curtailments. And that could hit the owners' pockets hard.
4. Competition is fierce
Poland is an attractive market, and there has been a lot of interest from international investors and developers to snap up their piece of the market. Being competitive in an attractive market while still maintaining a good business case isn't easy. A focus on optimizing at an early stage will give stakeholders the best change of balancing the numbers in their favour.
We're supporting our clients on Polish projects right now including technical and acquisition due diligence onshore and project management support for an offshore project in the development phase.
Want to talk about opportunities in Poland? Reach out to us below...