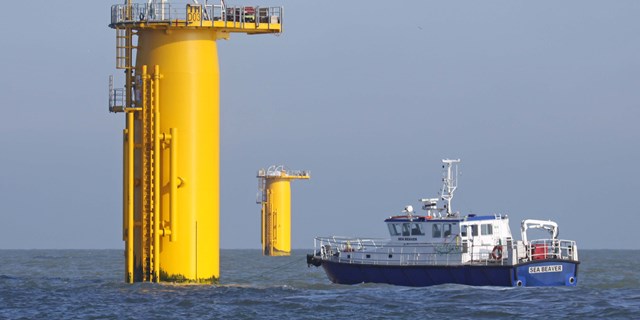 Fewer parts and pieces: Rethinking wind turbine construction
As the world edges toward a recovery from the COVID-19 pandemic, its demand for energy remains unabated.
The IEA projected that in 2022, there will be a 4% increase in global electricity demand. With gas prices at an all-time high and net-zero targets set to drive down a reliance on fossil-fuels generally, it is more essential than ever that renewable energy is delivered with maximum efficiency.
To do this, we need to increase the pipeline of projects under construction – and fast.
The offshore wind industry will be critical to this. As part of answering the call to meet demand, the industry is on a continual march to get projects built quickly, while ensuring the levelized cost of energy continues to fall.
Harnessing innovative and new technologies and new design techniques are essential to reducing construction costs, shortening project timelines and moving toward a more sustainable, lean and profitable industry.
It is through innovation, new technologies and fresh thinking that we will ultimately deliver renewable energy projects with greater efficiency.
The potential offered by new construction methods
Foundation technologies are a key area where improvements in construction processes are possible and represent an opportunity to build more projects quickly and efficiently.
Representing 15 to 20% of total capex, the foundation is a substantial part of project development costs. Scrutinizing the technical and cost implications of planned structures is therefore important, particularly as the industry becomes more ambitious in terms of geographical conditions.
Developing in these more challenging conditions, where the water is deeper, the seas stormier and where soil type is more diverse, coupled with larger turbines, means that dynamic thinking is required about the options available when it comes to creating technically sound, cost efficient foundations for towers and turbines.
The impact of larger components
Just a few years ago, a large blade would be 45-m long and now they span more than twice that. The forward trajectory is expected to be larger again, but it isn't just wind turbine blades that are increasing in size.
Offshore wind monopiles are getting larger, reaching into deeper waters with some of the most recently installed monopiles over 8.5 m in diameter.
As they continue to increase in size, the installation technology and technology connecting them to the turbine, is improving. New techniques are allowing the monopile foundation to be used in waters now reaching 55 m.
Alternative foundation possibilities
Gravity-based structures were among the first of the foundations used for offshore wind, thanks to their track record in onshore wind meaning the technology and function was well understood. Although traditionally used in shallower waters, gravity-based structures are expected to be used in deeper ones in the coming years, due to their low production costs.
There are many other structures available, such as jackets and tripods. As the industry develops, a combination of concrete and steel is becoming more common for these structures, broadening the cost-saving benefit of the raw materials involved and making them another notable choice for foundations.
And then there is floating wind. With its growing share in offshore wind energy production, this technology is making the marked shift from experimental to industry-scale commercial fleets. Over half of the awarded lease areas in Scotwind were for floating projects, showing how the industry can expect notable advancements in the commercial-scale rollout of floating projects in the coming years.
Eliminating transition pieces
This steel component linking the monopile to the rest of the wind turbine - a transition piece - was at one time essential, ensuring that the turbine was fully aligned. However, novel offshore wind designs mean that this component is no longer a necessity in all projects.
Technological advances mean that drilling piles is more accurate than ever, allowing developers to avoid relying on correcting misalignment by adding a transition piece to the top of the monopile.
The transition piece also serves as a construction from which essential secondary steel elements for operations and maintenance can be attached, such as ladders and boat landings. But these can now be attached directly onto the turbine tower, avoiding the need for this extra step in construction and streamlining the process.
Building turbines without a transition piece can bring even more advantages when it comes to speed of construction, cost and environmental friendliness.
Firstly, the transportation of equipment and turbine parts – an offshore turbine tower built without a transition piece can reduce the number of journeys a vessel has to take, because there are fewer parts. The vessel that was previously needed to transport this part of the turbine will no longer be necessary.
While a larger vessel may be needed to transport a larger monopile, economies of scale mean that this could reduce the number of trips a vessel has to make between ports and offshore wind farms, cutting fuel costs, time and carbons emissions.
Furthermore, the large-diameter flanges used to secure the monopile to the transition piece and then the transition piece to the turbine have substantial manufacturing lead times, sometimes among the longest of turbine parts. By taking away the transition piece, there is no need for these additional parts, which theoretically can be an effective way to make efficiencies in build-time.
Building without a transition piece can also provide lifetime operations and maintenance savings. Removing an entire section of the turbine eliminates the time spent doing maintenance checks and repairs on the said section. Although naturally the weight of the turbine would be transferred to other parts, there will be one connection that needs to be regulated and maintained which improves safety and, when multiplied across an entire wind farm, could save a notable amount of time.
Though these are small-scale changes, every gain will be valuable as margins are squeezed to maximize development.
Time and cost advantages for adopting new technologies
It is worth noting the manifold effect that increases in scale, which then filter down to the monopile. As the industry's ambitions continue to grow, bigger foundations are needed for deeper waters and larger turbine capacity.
But while this requires more in the way of raw materials, it does translate into more power per the amount of steel and raw materials used – as bigger turbines in areas with better resource generate more energy.
More power generated means a direct increase in project revenue return, investor confidence and continued support for new technologies that enable these higher energy demands to be met.
The extent to which different designs can take advantage of resource is also important. Offshore floating wind is a key example of a technology that presents a massive opportunity for the industry.
With over 80% of all potential offshore wind energy resource being in waters deeper than 60 m – which is deeper than current fixed-bottom designs can manage – floating wind will be essential in pushing industry growth.
We must also acknowledge the benefit of structures, such as gravity-based foundations, that can be made of concrete rather than steel. As steel prices continue to be volatile, substructure construction techniques that can limit its use, such as building without a transition piece, or not using steel as the main component, such as concrete gravity-based structures, are likely to increase in popularity.
Looking ahead with ambition
Seeking to move faster and cheaper isn't necessarily a recipe for success though. This approach needs to be considered carefully, since cutting costs can be detrimental for the sake of meeting demand when not done cautiously enough.
For instance, the ripple of cable problems that that the industry continues to be blighted with shows the financial and reputational burden that can arise from projects focussing too much on cutting cost.
With the offshore wind market so liquid and the pressure now on to get more renewable energy projects online, we need to be nimble when it comes to the engineering of turbine towers and foundations – particularly as developers turn to deeper waters to access the best resource.
Continuing to innovate, explore new and improve upon existing ways of development by looking at elements such as monopiles, other foundations and transition pieces means the industry can move faster, reduce its costs and LCOE while making project processes more sustainable.
Written by Gary Bills for Windpower Engineering